If you are one of those who do not let themselves be seduced by brands and you are simply looking for the best value for moneyThis robot vacuum cleaner from the Chinese company Yeedi will surprise you: it has high-end functions for a significantly lower price.
Technical characteristics of the Yeedi Vac Hybrid
What we liked the most
A good price-performance ratio
Create maps
With smart navigation
With cleaning function
What could be improved
In the dark he can get lost
App interface can be improved
Analysis and testing
We tested the Yeedi Vac Hybrid in our home for several weeks to find out how it cleans, how long it lasts, how it's designed, and how it performs. Here are the results.
Design
If there is a word for to define the design of the Yeedi Vac hybrid, it is simple.. Indeed, between its simple lines and its plastic finish, it is reminiscent of a toy. The advantage is that its upper surface is matt white and is resistant to handling, so that it does not leave fingerprints. On the other hand, scratches and stains are noticeable.
It is a robot that surprised us with its somewhat wide diameter but quite compact in terms of height, which has some advantages:
It is able to clean without problem in under the bed and under radiators without getting stuck.
to be tall, it doesn't need to do so many passes to cover the surface of the parts.
The disadvantage of the small size is that some obstacles, such as thick carpets, can be difficult to cross.. For example, he got stuck on the bathroom scale several times, and when we put him in our room, he couldn't get on the wool carpet.
When we returned it, we found two side brushes to attract dirt and a central roller with bristlesa combination typical of entry-level models which, in our experience, is sufficient for moderate soiling.
We liked the fact that, although not included, the device is equipped with a cleaning system, if you wish, you can buy the self-draining base separately. so you don't have to worry about the tank filling up.
Navigation
One of the things that surprised us the most in the Yeedi Vac Hybrid is its navigation system, since it combines sensors with a camera to move on the ground tracing zigzag trajectories. As we have been able to verify during our use during these weeks, it is thatdoesn't overdo it and doesn't leave uncleaned areas. (with the exception of those which do not lend themselves to it, logically).
The advantage of this navigation system is that optimize your working time. That is to say, it does not get in your way by overloading you with work. But since the camera is up high, we've had to get it stuck when going over wires or slippers. We therefore recommend that you clear the area before passing it so that it can return to base without problems.
Let her Smart navigation is done by camera has chiaroscuro:
The way he "sees" what surrounds him, it needs light to orient itself. In this regard, we tried with the blinds down and it got lost, so it's best to spend the day with the blinds up. So it's best to spend the day with the blinds up. It can also get lost in dark places, like under the bed.
He is able to cartographywhich is handy for seeing which rooms you've cleaned, which ones you still need to clean, and best of all, you can clean room by room.
Cleaning
The Yeedi Vac Hybrid is effective in dealing with everyday dirt and grime.. While its 2,500Pa suction power isn't the strongest we've tested, we found it sufficient for small solids commonly found on household floors.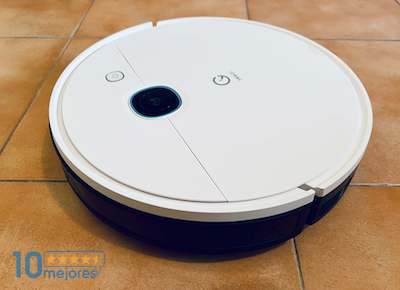 Thus, you can regulate its power in 2 modes:
The mode standardif you are just interested in a maintenance cleaning or if the floor is not very dirty.
Max mode for heavily soiled floors.
The device has only one central brush and it is a bristle brush, not a rubber brush, we do not recommend it for households with pets.. The bristles tend to bunch up, which reduces its effectiveness and can end up damaging the brush. In our experience with a dog at home, the roller quickly fills with hair.
For the carpet we have at home, we have been very satisfied with your products. special carpet modeHe is able to detect them, dodge them if he is mopping the floor or push the power to the maximum if he is simply in suction mode. If it performs well on thin carpets, it is not up to the task on thicker carpets, and even struggles to penetrate them.
One of the good things about this unit is that it has a scrubbing attachment that allows it to pick up small solids and clean dry spots. After testing it for two weeks, we think it sucks better than it scrubs.because he just wipes the floor with a damp mop.
Autonomy
According to the manufacturer, the battery life is just under 2 hours, but only if you use the standard mode. In practice, we have almost always used standard mode, except in extreme cases. medium-sized apartments or even apartments over 100 m2..
We have a small one bedroom apartment and the Yeedi Vac Hybrid is able to clean it up to 4 times with a single battery charge. using standard mode. When we opted for the Max mode, its battery allows us to clean our house 2.5 times.
Running out of battery in the middle of your cleaning operation? No problem: we observed that the device returns to base to fully charge and then continues.
Control
To control this robot vacuum cleaner you will have to install the application on your mobile and, if you wish, set up Alexa and Google Assistant voice assistants. so that you can use it orally.
This is the section we liked the least, because we think the application has a somewhat chaotic and poorly translated interfacewhich can be confusing for people who are not very tech savvy. However, if you're familiar with gadgets, this shouldn't be a problem.
The advantage is that it allows you to clean your house room by room.but we think an update is needed to give it a facelift and improve the user experience.
Our opinion
The Yeedi Vac Hybrid is a model that surprised us in terms of performance and cost, standing out above all for its good autonomy figures and its precise navigation in good light, a combo that we consider to be the best. interesting for medium-sized and even large-sized apartments.
In terms of brush power and configuration, we found it to be reliable in dealing with the usual dirt on floors and, although it has a carpet mode and a mopping function, we consider that it does not is not necessary to have a brush to clean the floors. its strong point is the suction of all types of floors.. If you don't have pets, it will be more than enough for you.
Connectivity, app and support for voice assistants. will be useful for people who work in technology fieldbut since the app isn't particularly intuitive, we don't think it's a robot for those who don't want to complicate their lives.
Finally, it is clear to us that it is about a good value for money robotThis robot is good value for money, as you can opt for features like smart navigation even if you are on a tight budget.